Patented urine sample container for testing drugs of abuse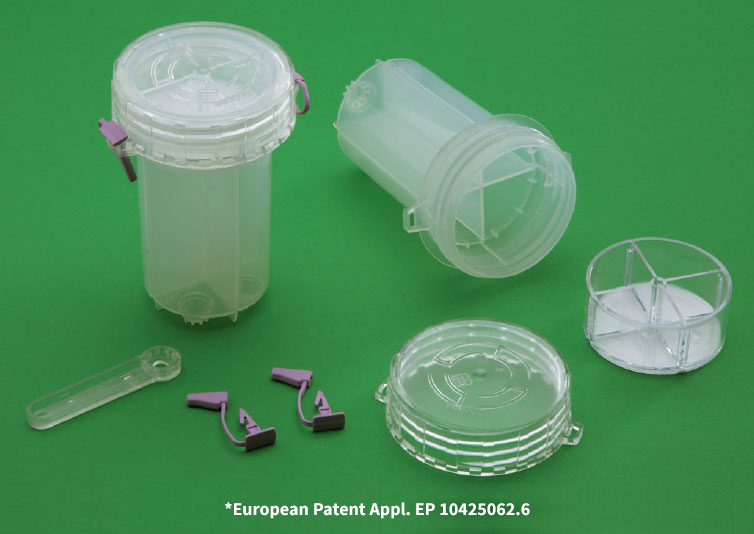 Patented container (European Patent Appl. EP 10425062.6) with 4 separate compartments of 35 ml each. This allows the subdivision of the original sample into 4 completely separate samples. All this is carried out in complete safety for both the operator and the donor to be tested.

The container is very simple to use. Fill the container with the sample, place the undercap insert in the container and screw the threaded cap on the container. This guarantees the container to be leak-proof and tamper evident.

The threaded transparent cap is designed in such a way that when it is screwed on the container it cannot be unscrewed, unless it is forced open. If this happens the insert is designed to break, proving the container has been breached.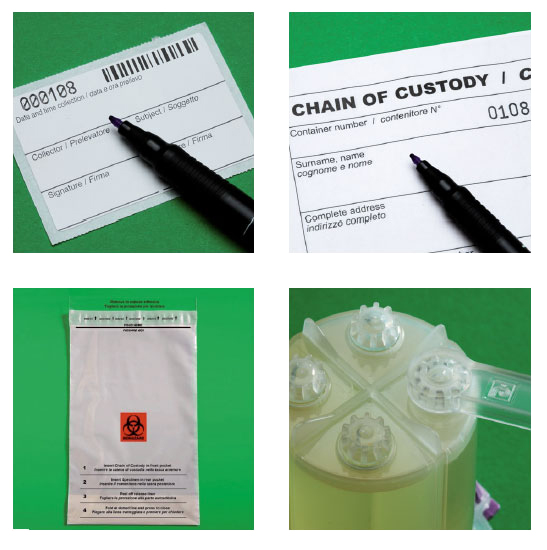 Container in transparent polypropylene, with engraved numbering, divided in 4 compartments of 35 ml.
The undercap insert has engraved numbering and a gasket to ensure the container is leak-proof.
The threaded cap has engraved numbering and cannot be removed once it has been screwed in place.
Special key to open the 4 sample compartments.
Adhesive label, tamper evident, numbered and bar coded.
Security locks with engraved numbering.
Chain of Custody form, 1 original and 5 copies (self-copying) according to the U.C.A.A. model.
To prevent tampering, all components of the anti-doping container have the same number engraved on them.

7 May 2016